It is

bathing time


Pom pom time

If you have all these during your bathing time,
of course you will truly enjoy


porcelain toiletry set

There is a
shampoo dispenser
,
toothbrush holder
,
cup
soap holder
i had a few


toiletry set but this is the set that i favour most.
The soap holder also has a

kitty and
rabbit miniature.
How cute

The image printed on the toothbrush holder and the cup is
so cute too.


is in bath towel with her best friend,Ms
Rabbit.
While this

,


a shower sponge.
i am not the one who use shower sponge.
But,i had wanted to find this long time ago.As collection.
i like its die-cut shape.i like to collect anything


hello kitties die-cut.
i bought this from an online shop along with a few items


.i like the


stuff they sell,
but not their delivery service.i had to wait almost a month
for the items to deliver to me.i know it is pre-order.
That's the disadvantage of pre-order.Compare to my online shop,mine is
faster and more efficient
Don't you think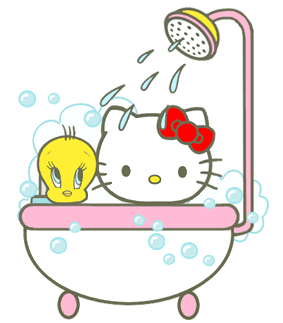 Let's bath