i am a certified pink addict.Not only

addicted,but pink colour too.Above piccy is a cute plastic stool in

strawberry

shape and a scooper in the same shape too.Scooper for bathroom use,not the one to scoop
ice-cream.The strawberry stool functions at its best when i wanna do some washing by hands.And i need to sit.Squat will make me tired
...
So,i had changed my old pink plain scooper to this cute strawberry scooper.

Bath time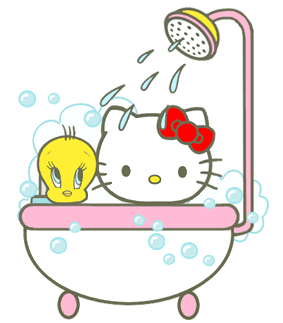 will be fun starting this very second.
If you got went to Sanrio departments or shops,then you sure recognize this.It is the same with the original Sanrio licensed product. By saying like this,that means mine is not ori.i don't care.
For me,what matter is,they are still

stuff that i collect.i like

.Not like original or not original...But there are still some of my

collections original.My first considering in buying

stuff is whether it looks

NOT fake

and

kawaii

.This only my opinion.Everyone of us in this world has different opinions.There are people who splurge mostly in clothings,and there are people splurge mostly in jewelleries.Therefore,it is actually up to us and we can do whatever we like.