Yesterday,my hands very itch.So,i steal a bit time passing by ebay.It really had been a long time i hadn't pass by there.Guess what??
i grabbed something cute.And cheap too.Will share with you when it arrives.While today,we talk about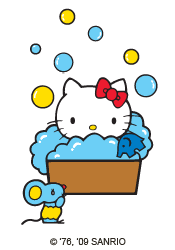 bathing time!

porcelain bathroom set which my shops selling now.
Came with a nice cute box.
But,hubby said next time cannot take things like these anymore.As some of them broken when they arrived that very day.

There are 2 different designs and i had chosen this.
1 is enough for me.i am not greedy to take both.

Hehehe=P
It consists of a

soap holder,

shampoo dispenser,

toothbrush holder and a

multi-purpose holder,i named it!
Colourful

holding hands like a chain.
These will be in part of my collections display rack